Pernah dengar tak
GlobalTestMarket
? Aku dah join lama dulu, but never talk about it in my blog.. Sebabnya, aku tak mahulah cakap2 tapi takde bukti yang aku betul2 dapat duit dengan jawab survey2 ni..
Actually, it took quite so long for me to redeem the points.. Yelah, setiap survey hanya dapat markah between 5 - 60 points.. So, memang lama nak nak tunggu sampai 1000 points and baru boleh redeem.. Tapi, I just take it easy.. Bila ada invitation jawab survey, barulah jawab.. Kalau takde, takdelah.. Jawab punya jawab lama2 cecah jugak the minimum amount to cash out..
Tak sangka cepat juga cheque sampai.. The 1000 points equivalent to USD50.. Sangat okay, kan? Siapa yang nak bagi duit percuma, kan?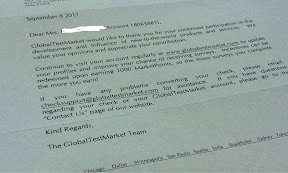 Will deposit the cheque by this week ;)
Marilah ramai2 join.. Jawab survey when you are free.. No harm trying..
- Posted using BlogPress from my iPad