*Sticky post sehingga tak tahu bila.. hehe.. Pls vote for Haikal ye..*
Concern tak tentang supplement for our child? As for me sendiri, tak amik apa2 supplement pun sebab aku tak suka makan ubat or pills.. Hehe.. Tapi, bila kite tak suka, tak bolehlah treat anak kite macam tu jugak, kan? There is no compromy in ensuring our child health.. Kena make sure anak kite dapat makanan yang seimbang yang diperlukan oleh badan dia.. Lebih2 lagi sekarang ni is a growing up phase for them.. Am I sound like a dietician? Hihi.. No lah, this is just my opinion.. This entry bukan berbayar pun.. Hehe..
Mulanya, aku pun tak terfikir sangat fasal supplement untuk Haikal ni.. Haikal is not a fussy eater either, dia makan apa aje.. Yang menjadi concern ialah sekarang ni dia makan sikit.. Tak luak sangat pun.. Lebihnya banyak nak main.. Cedok2 nasi pakai sudu, sudahnya tertangkup mangkuk dia tu.. Huhu.. Lepas tu, bila lapar dia makan benda lain macam maruku (musim raya ni ada maruku kat rumah), cocoa crunch, biscuits, chocolate and sometimes junk food.. So, bila keadaan macam ni, aku fikir is he getting sufficiant nutrient from the food he eats? Maybe, sometimes YES and most of the time, NO.. :( Cuma yang okaynya dia minum susu banyak jugak during day time, so, aku tak berapa risau sangat..
Nak dijadikan cerita.. Dalam terfikirkan tentang anak yang kurang nak makan sekarang, semalam lepas balik breakfast terlalu depan booth Blackmores di LG Midvalley.. Terus aku stuck kat situ.. Tanya2 kat promoter, then aku beli Blackmores Multivitamins + Minerals For Kids.. Haikal pun dah ada geraham, memang okaylah chewable vitamins like this.. Dia pun tak suka sangat makan yang syrup based.. Kalau makan ubat, macam terpaksa je, lepas tu buat goyang badan geli-geli dia tu.. hehe..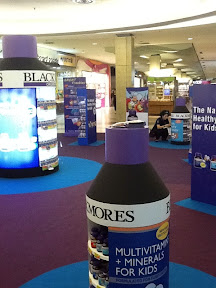 2 bottles for only RM48.88.. okay kan? Ada 120 tablets semuanya, tahan 3 bulan sebab sehari sebiji sahaja.. Yang bestnya time promotion ni, setiap pembelian RM40 dapat RM10 Guardian voucher.. But the voucher is valid only for 7 days from the purchase date…
Balik rumah, aku excited nak bagi kat Haikal sebiji.. So, aku tunjukkanlah sebotol kat dia.. That was a very wrong decision, actually.. huhu..
Why I said so? Lepas makan sebiji, dia melalak-lalak nak lagi.. huhu.. Tak sampai hati aku tengok, tapi aku tetap tak bagi.. Distract him with something else.. Lama-lama dia diam.. Tapi, lepas tu dia teringat balik, tunjuk ke cabinet tempat aku simpan vitamins tu.. huhu
Melalak, tapi dalam mulut ada lagi vitamin.. Tak abis kunyah pun..


Mintak simpati.. huhu..
Starting from today, kena bagi sebiji saja setiap hari without showing him the rest… hehe.. I know he will love this vitamin.. Sebab manis and fruity.. :)
Mommies out there, maybe you can try this vitamins on your kids too. Ada banyak brand lain jugak kat luar sana, pun boleh jugak.. Yang penting anak kite membesar dengan sihat dan bijak.. InsyaAllah..
Oh ya, kebetulan aku ada masuk contest organized by Blackmores ni.. Saja-saja sebab jarang sangat masuk contest yang kena LIKE2 ni.. Apapun, kat sini minta jasa baik kawan2 blog reader yang singgah untuk LIKE gambar Haikal :)
To vote, click HERE: http://www.ourbestmoments.com.my/gallery-details/79149
Sesiapa yang dah LIKE, I appreciate it so much.. Thank you banyak-banyak..
Note: Voucher RM10 tu rasa nak beli lipstick lah.. Esok kot, sebab minggu depan seminggu ada training! Yeay..
- Posted using BlogPress from my iPad