Nak jumpa my little boy!
3 hari duduk dengan papa, for sure his papa is his best friend.. Tengok bila mama balik nanti, dia melekat tak kat papa? Hehe..
Sometimes tengok gambar2 Haikal boleh buat aku tersenyum sendiri.. Macam-macam peel.. :p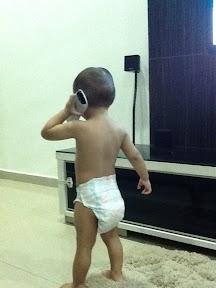 Talking to contractor on the phone.. Haha.. Look properly at the handphone.. Itu remote Astro sebenarnya! Siap pandang tempat lain bila perasan mama nak snap gambar..
Makan kuih batang buruk.. Haikal suka sangat kuih ni... Sekali makan masuk seketul terus dalam mulut..
Tengok video klip joget2 kat TV..
Berjangkit joget sama.. Hehe..
- Posted using BlogPress from my iPad